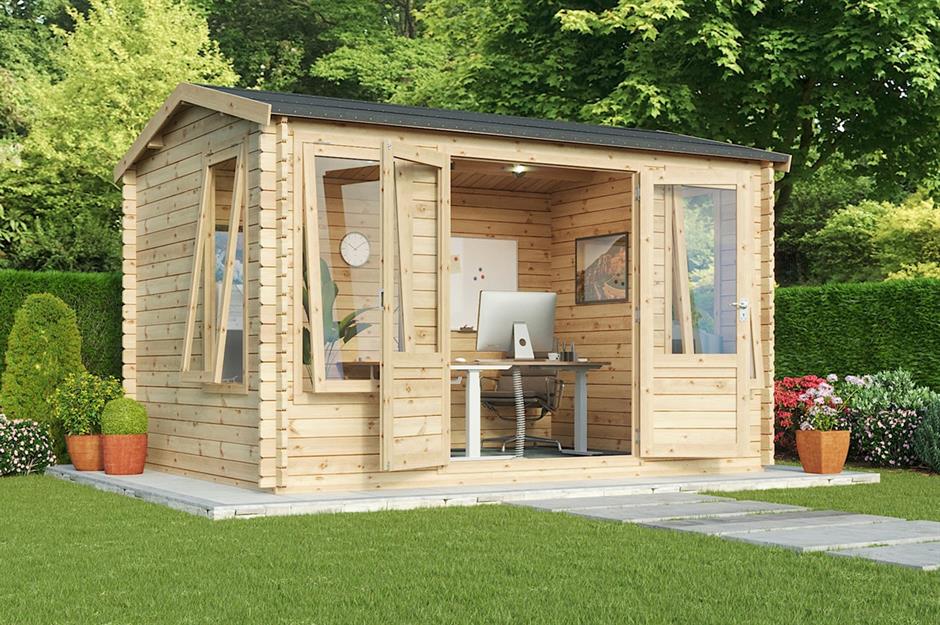 4 REASONS WHY YOU SHOULD CONSIDER ADDING A GARDEN OFFICE TO YOUR OUTDOOR SPACE NOW!
Using your garden for different means of productivity could be the game changer.
The world as we know it, has changed for most of us and this too includes how and where we work.
With many people working from home, changing your surroundings to be a happy and balanced environment can help ease the day to day pressures of work.
A recent study found that 37% of millennial and Gen Z workers are struggling to maintain a work-life balance.
If you feeling the same, why not consider creating your ideal garden work space.
Not only could a garden office improve your productivity, it can also help with your work/home life balance by removing the "office" clutter in your house.
Think about when you finish work, you need to release the day, which can be difficult when you are staring at your office 24/7.
Recent studies have shown that many home workers are transforming their workspace into a garden office, whether it be in their shed, on their balcony or combining their exercise and work routines.
If you looking at creating a balcony office and still want the feel of your garden, read here on how to create that perfect balcony garden. 
What about if you set up your work station to collaborate with your exercises. Imagine sitting on your exercise bike, releasing those endorphins which in turn provide you with a positive feeling, while completing work you need to do.
Sound interesting? Read on to learn about 4 reasons why a garden office may be just what you need.
Bringing back the commute:
When people apply for jobs, one of the important factors most consider is the commute from home to work. Not many will say they enjoy sitting in traffic everyday and the expense involved in travelling. It is usually seen as a waste of "work" time, but what if alleviating the commute is actually having negative affects.
Shamsi Iqbal, principal researcher, Microsoft Research stated in the Microsoft Report 
'Commutes provide blocks of uninterrupted time for mentally transitioning to and from work, an important aspect of wellbeing and productivity.
If you put that into perspective, your commute to work gives you the chance to get your mindset work ready so once you arrive you are mentally prepared for it.
Same can be said for returning home, winding down cannot happen instantaneously after work, using the drive home, gives you that time to leave work behind and transition to your home routine.
 So where does commuting come in for a garden office? You may not necessarily have to walk far however you still have to physically leave your house to start work. You then do not feel the pressures of working late or even starting late. When your office is in the house and easily accessible, it makes it a lot easier to give in to the work pressures.
A garden office allows for you to switch off and head home.
Taking all the above into consideration, working from home/garden still allows you more quality time with your family. The garden office, almost, gives you that happy medium, you are not too close to escape from the home chaos, into your work environment yet you are close enough to get home with enough time on your hands to do all those house tasks and spend time with your family.
2. Nature is good for mental health:
Working outside of your house reduces the chance of distractions like cleaning or other household chores. The only distractions you may have in your garden office, is the sound of a bird playing in a bird bath or the wind blowing in the trees. 
Most nature lovers, desire such distractions, find out more about how to attract birds to your garden. 
This allows for a separation between your home and work life. The calmness that nature brings, can help with everyday work stress which overall can improve your mental health.
Time outside has proven benefits for your mental health. A strong connection has been found in the time spent in nature and reduced negative thoughts and energy, including illnesses like insomnia and tension headaches. Links to being outside or in nature and lower stress levels is a wonderful example as to how a garden office could benefit your mental health.
3. Make it a mood boosting project:
The space can be used for multiple projects.
You can choose to spend time decorating the space or creating a section where you can tackle your other hobbies, from crafts, scrapbooking, writing to knitting, mosaic work or even painting.
Using this space for various projects will help you see it as a happy and positive environment.  A happy worker is a productive worker.
4. Add value to your home:
You can add great resale value to your home without having to take on substantial and expensive projects.
According to an article, written in Garden Rooms Sanctuary, you could add around 5% total property value, with a well constructed garden room.
With how the working world has changed and so many people working remotely, a big selling point to a house is a home office, why not make yours a unique one with a garden office.
If your garden office is well taken care of and used effectively, it can improve your quality of life.
Many new business owners would never have started without the option of a garden office, where as others may just use it as a sanctuary. Roald Dahl famously wrote his books in his garden shed, maybe you could too.
These may be just some of the reasons why a garden office is something to be considered, the company too will save money on rent and travel expenses, they easy to install and you are surrounded by the natural beauty of your garden.
There are many options for your garden office from large projects to easy DIY options:
Garden Shed

Balcony

Patio

Garden Pod

Built on room

Garden Tent

Converted Caravan
When deciding what method to go with consider the expense as well as how this garden room could be used for future buyers, make it one of your homes best selling points.
Thinking this is the route for you, but struggling to take the leap, why not start with small steps by getting your garden space ready.
Want to read more about garden rooms and natures benefits, follow the below links.